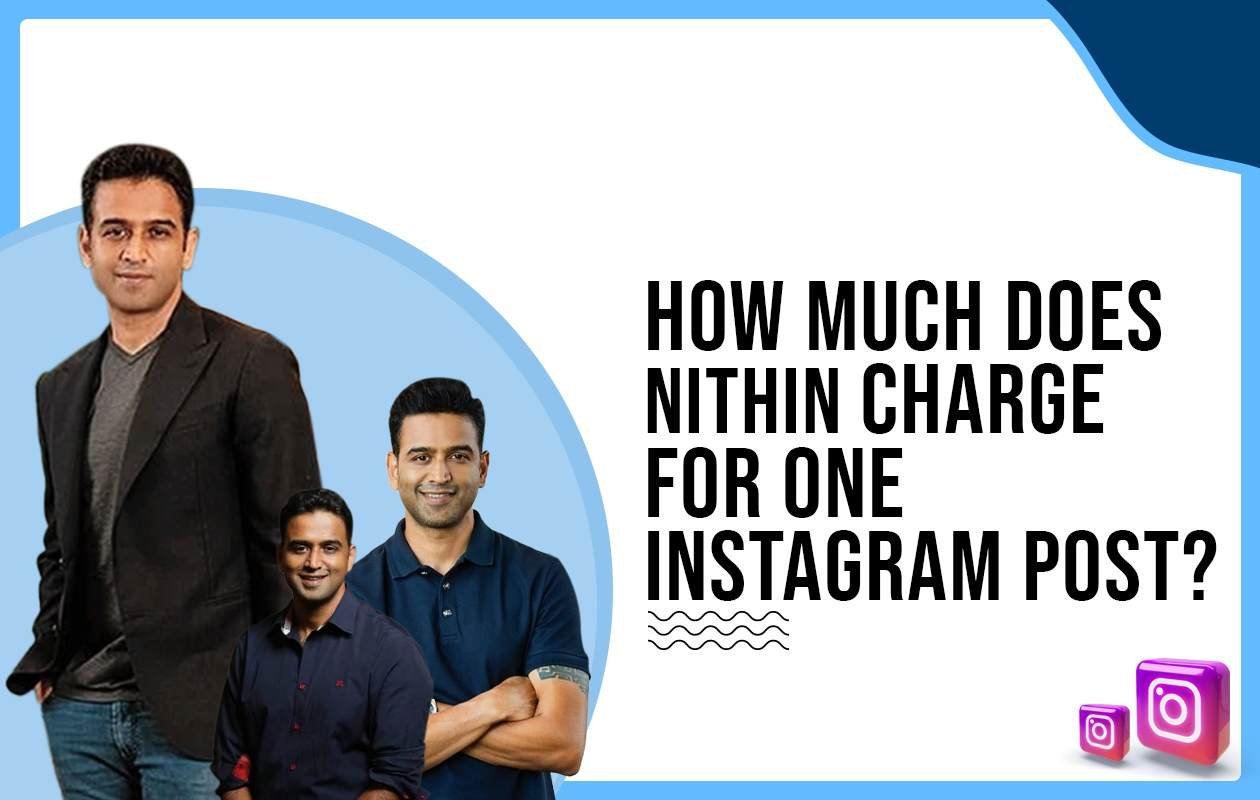 How much Nithin charged for one Instagram post?
Nithin Kumar Reddy popularly known as Nithin is the chocolate boy of the Tollywood Film Industry. An impeccable actor, a melodious singer, and a wise producer. A messiah for his fans and idol for his audience he continues to bless his followers with his charm!
Born on 30 March 1983, the actor is a child of Sudhakar Reddy (Film Producer and Distributor) and Laxmi Reddy (Homemaker). He has been in the acting field for almost 21 years now, and his charm has been forever growing and advancing. The talented actor has never failed to deliver an absolute HIT, dearly loved by his fans. Concrete proof is his debut in the record-breaking film "Jayam" (Telugu). The movie was appreciated by the audience and the public absolutely adored the cute actor! Nithin idolizes the legendary Tollywood actor Pawan Kalyan, and fancies being where he is someday.
The actor is definitely not just a pretty face, Nithin continues to woo his audience with his mesmerizing voice, and soothing singing. His singing career has also bloomed just like his acting endeavor. No wonder Nithin has an Instagram following of over 1.5M. He has always been fond of singing and decided to pursue his options as a singer in Tollywood after his first big acting break in 2002.
---
Know more about Nithin Kumar Reddy
Born in Nizamabad, Telangana, Nithin is deeply attached to his routes. Now residing in Hyderabad, Telangana he enjoys visiting places he once went to as a little kid. Nithin can also be seen acting in the Bollywood film "Agyaat" 2002, another one of his amazing films. After Agyaat, his career took off for the best and he decided to step into the field of Film Producing as well. He learned the basics of film Producing from his sister Nikitha Reddy and his father Sudhakar Reddy who were established film producers at the time.
From the learnings, Nithin went ahead and produced his first film in 2013, "Gunde Jaari Gallanthayyinde".His followers were a fan of his singing just as much as they enjoyed seeing him acting on screen. Nithin's singing career started with 'Lachhamma' from the Telugu film "Ishq" in 2012, followed by 'Ding Ding Ding' from the Telugu film "Gunde Jaari Gallanthayyinde". Nithin also fancies dancing, he describes his hobbies to be Singing and dancing, one of which he pursued as a career option, and we are glad he did!
One of the most celebrated works of Nithin as an actor was the film 'A Aa' in 2016 which was written and directed by Trivikaram Srinivas, the film turned out to be Nithin's biggest grosser to date! Nithin is hands down the most humble actor to exist, he frequently reaches out to his fans which makes him a down-to-earth diva! No wonder he has over 1.5M fans on Instagram as of 2023
---
Let's Talk Numbers: Nithin's Instagram
The widely celebrated actor with a fan following of over 1.5M on Instagram alone is sure to be in collaboration with a number of brands as passive income. Starting with being the Brand Ambassador for Swachh Bharat Campaign for Telangana state. Nithin is also the brand ambassador for Cottonking, an extremely popular South Indian clothing brand.
No wonder Nithin charges big bucks for Instagram. Attaching his credibility along with his name, he is extremely conscious about what he advertises
Down below is a list of what he charges to post the following on his Instagram:
Instagram story- 70k- 90k
Instagram reel- 2lac- 3lac
Instagram static- 50k- 60k
Instagram carousel- 80k- 2lac