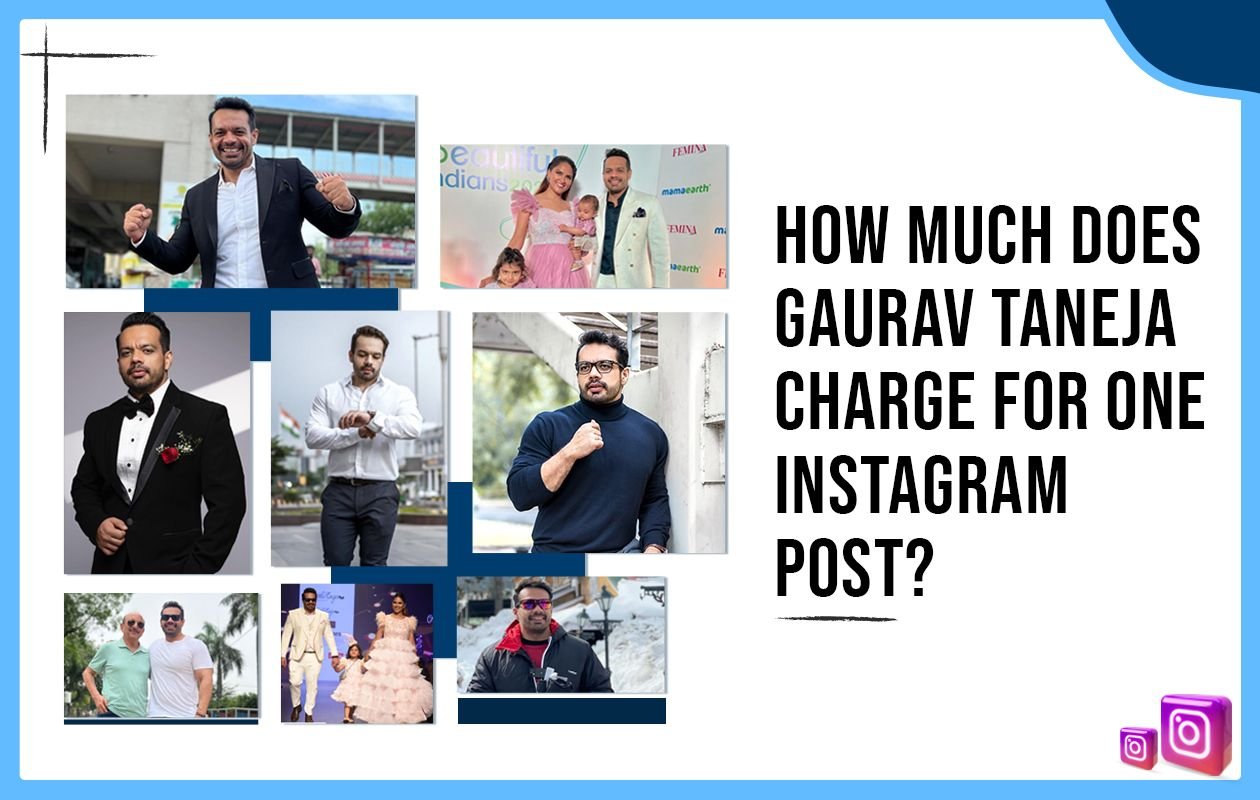 How Much Does Gaurav Taneja Charges for One Instagram Post?
"ATTA, DAAAL, SABBI" – you must have recalled the visuals from the vlog clips of Gaurav Taneja, or you might call him – "FLYING BEAST" as well. Indeed, the cute little version of our very own Flying Beast – Rashu, grabbed everyone's attention on entire social media.
It is to say that the flying beast has designated himself with many professional entitlements. Consequently, he is an engineering scholar of IIT Kharagpur, a licensed pilot, a fitness enthusiast, a nutrition freak, a successful YouTuber, an admirable father, and a loving husband too.
With millions of fans spread over the nation and international boundaries- Rasbhari Ke Papa has pioneered social media. So, if you are one of those addictive fans keen to know everything about the fitness freak- then have a thorough tour of this written aid that speaks every sphere of his life story.
---
All About Flying Beast Early Life and Parents
Gaurav Taneja-a native boy of Kanpur, Uttar Pradesh, was born on 9 July 1986, ages 35 years as of 2022. He is a Hindu by religion and Indian by his nationality. Apparently, living with a family of four, Gaurav is instilled with values and a sense of responsibility, which is evident enough in his extended family post-marriage.
The loved YouTuber has completed his schooling at Jawahar Navodya Vidyalaya, Uttar Pradesh. Gaurav is an enthusiastic scholar entitled in civil engineering from IIT Kharagpur. Worth Mentioning that Gaurav Taneja's father is a retired bank officer, and his mother is a successful teacher. Also, he has a sister as his sibling.
---
Gaurav Taneja Married Life, Wife, and Children
"Motey" – we all have heard this a trillions number of times in Flying Beast Youtube Vlogs. Gaurav and his Wife – Ritu, call each other by this nickname as a gesture of admiration. Certainly, the couple got married in 2015 with a close gathering of relatives and friends.
Gaurav Taneja's Wife- Ritu Rathee, is a fashion influencer, a mother of two, and a pilot by profession. The pilot couple has two cute little daughters. Definitely, the entire social network has known her first daughter as Kaira Taneja, as "RASHUU or RASBHARI." Rasbhari has taken over the attention all over Instagram and Youtube through her dad's vlogging. Gaurav Taneja's Youtube channel names are- Flying Beast, FitMuscle TV, and Rasbhari Ke Papa.
---
Gaurav Taneja Height, Physical Appearance, Fitness, and Net Worth
Since college, Gaurav has been interested in being health-oriented and held great involvement in the right nutrition. Subsequently, he gained a lot of popularity in his college for bodybuilding. Thus, this approach ignited him to serve some major tips on nutrition and muscle building through the Youtube channel.
Being a bodybuilder, fitness enthusiast, and certified nutritionist, he owns an enormously muscular build. Flying Beast Height measures down to 5 feet and 7 inches and weighs about 90 kg. Since the fitness freak has expanded his arms to various fields of interest, it is an undeniable fact that he is earning handsomely. Touchwood! Well! to calculate, Gaurav Taneja's Net Worth is approx 35 crores. However, the estimated major portion of his earnings is derived from Youtube vlogging. Moreover, they hold great deals in
brand collaborations, being fashion and fitness influencers. Indeed, if you go through their Instagram profiles and Youtube channel, you will find ample paid collaborations and honest reviews of places, products, and services they have been offered. So, if you are also a brand and resonate with the Taneja family somehow, associating with them turns out to be magnificent.
---
Instagram Post Charges of Flying Beast
Gaurav Taneja in himself is complete as an influencer in promoting brands, which has increased his value. Also, his Instagram follower count has reached 3.5M which has elevated his presence as an influencer.
The charges for Flying Beasts:
Instagram Reel: 3 to 4lacs
Instagram Story: 3 to 5lacs
Instagram Static: 2-3lacs
Instagram Carousel: 1-2lacs
---
Career and Controversies
As mentioned above, Gaurav Taneja has spread his wings in his areas of interest. Thus, he is a licensed pilot, a successful YouTuber, a certified nutritionist, and a fitness enthusiast. Since the cheerful days of college, the YouTuber has been inclined towards fitness and used to share tips with his peers.
Moreover, the youtube channel- FLYING BEAST has become a daily vlogging channel. Consequently, Gaurav and his wife, Ritu, and their daughters post regular vlogs for connecting with their viewers. So, you can visit their youtube channel to see what's new stuff there.
Gaurav Taneja is an accredited pilot. Initially, it started when he joined the flight school for training in A320 type rating, CAE Madrid in Spain back in 2011. Therefore, post-completion of his drill, he started work as an officer at Indigo, followed by working as a captain in 2014.
Next in the lane, he joined Air Asia in 2019, where he got indulged in a sort of controversy. Actually, he raised his voice on the safety issues of a pilot. In addition, flying beast believed that the organization was not abiding by the Covid guidelines by the government.
Even the staff was restricted from taking sick leaves. Eventually, he took to social media to let everyone know the bitter truth. As a result, he got abandoned from his job; however, now he lives a prosperous and joyful life. Later, he got entitled to The Great Visionaries Awards in 2020.
Gaurav Taneja and his wife have come a long way ahead to earn so much love and admiration from the people across India.
---