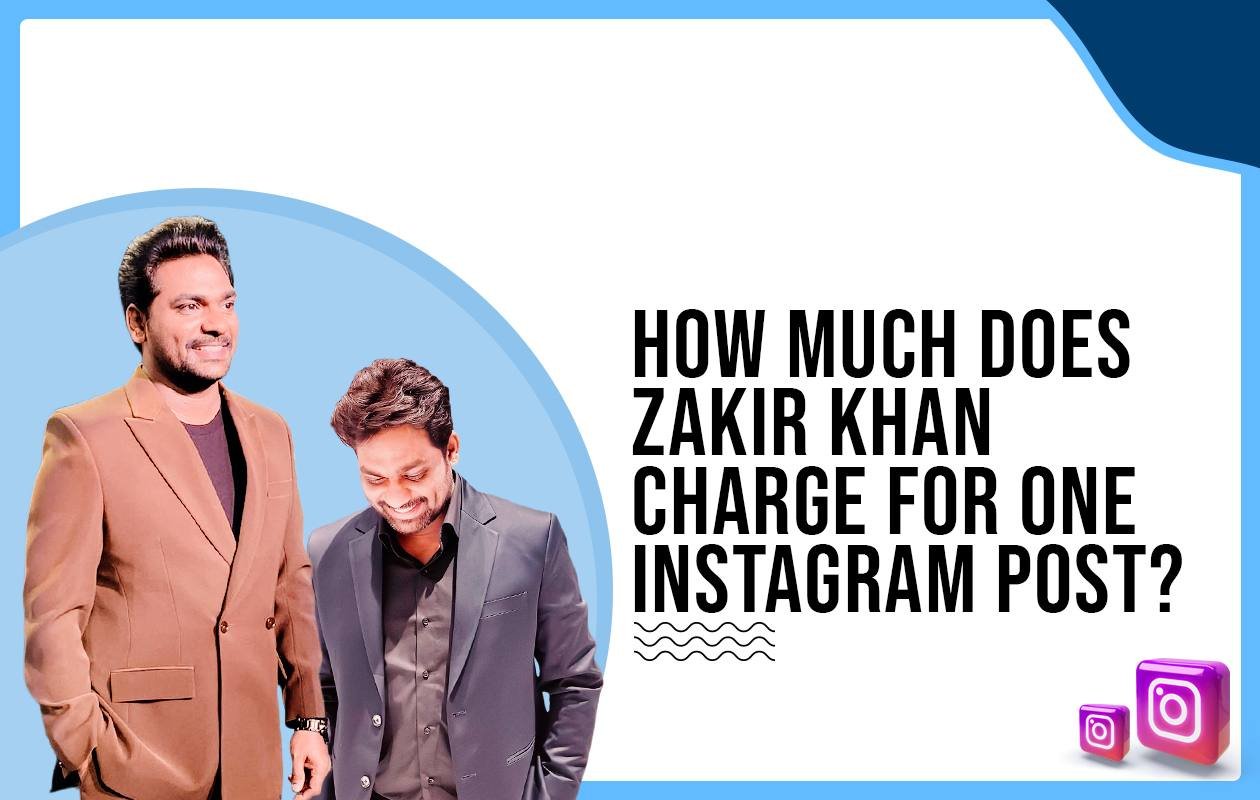 How much does Zakir Khan charge for One Instagram Post?
Zakir Khan, synonymous with laughter, relatable humor, and poetic prowess, has left an indelible mark on the Indian entertainment industry. Rising to fame by clinching the title of Comedy Central's Best Stand-Up Comedian in 2012, Khan's journey has been inspiring. With his unique blend of observational humor, witty storytelling, and soul-stirring poetry, he has captured the hearts of millions nationwide.
---
Zakir Khan's Early Life, India's Best Stand-up, Radio Shows, Comedy Specials, and More
Khan was nurtured by a Muslim Rajasthani family of classical musicians in Indore, Madhya Pradesh. He lived in Delhi for much of his adult life. He is from a lowly family, and he thanks his father for encouraging his potential. He rose to prominence in India's stand-up comedy scene in 2012 after winning the Comedy Central competition title of "India's Best Stand-Up." He has performed at numerous stand-up comedy clubs and produced ghostwritten radio shows.
His comedic approach was praised in the TV program The Rising Stars of Comedy on NDTV Prime. Zakir Khan's rise to fame reached new heights with the release of his stand-up specials on Amazon Prime Video. "Haq Se Single" (2017) offered a hilarious take on singledom and relationships, while "Kaksha Gyarvi" (2018) tackled the quirks of Indian education and school life. His latest special, "Tathastu" (2022), continues to showcase his evolution as an artist, addressing relatable societal topics with his trademark wit.
---
Zakir Khan's Instagram, AIB Shows, Comicstaan, Poetry, Fame, and Recognition
In the age of social media, Khan's presence on platforms like Instagram has further amplified his popularity. With over 6 million followers, his Instagram account offers a glimpse into his personal life, thoughts, and behind-the-scenes moments. Thus, Zakir Khan's Instagram charge for one Instagram post is-
Instagram reel- 5lac – 10lac
Instagram story- 3lac – 4lac
Instagram static- 3lac – 5lac
Instagram carousel- 2lac – 4lac
Zakir Khan's prowess isn't confined to just stand-up comedy. He has been integral to "On Air with AIB," a news comedy show that provides a satirical take on current affairs. His involvement in such a platform highlighted his versatility as a performer. He also participated in Comicstaan Season 2 on Amazon Prime, serving as one of the judges and coaching the competitors in the comedy subgenre.
Later, he became one of the four judges for Season 3. Besides his comedic brilliance, Zakir Khan has also established himself as a profound poet. His ability to blend humor with insightful poetry has struck a chord with audiences. Khan's poetry often delves into themes of love, heartbreak, and life's ironies, adding a poignant dimension to his performances. 
Trivia or Amazing Facts About Zakir Khan
Zakir is Ustad Moinuddin Khan's grandson, a master of the sarangi.
He is a college dropout with a Sitar diploma.
He has claimed that he would be a music instructor if he weren't a stand-up comedian.
Khan has a pet dog named Champ and is a passionate animal lover.
Vishwas, Zakir's flatmate, pushed him to perform at open mics.