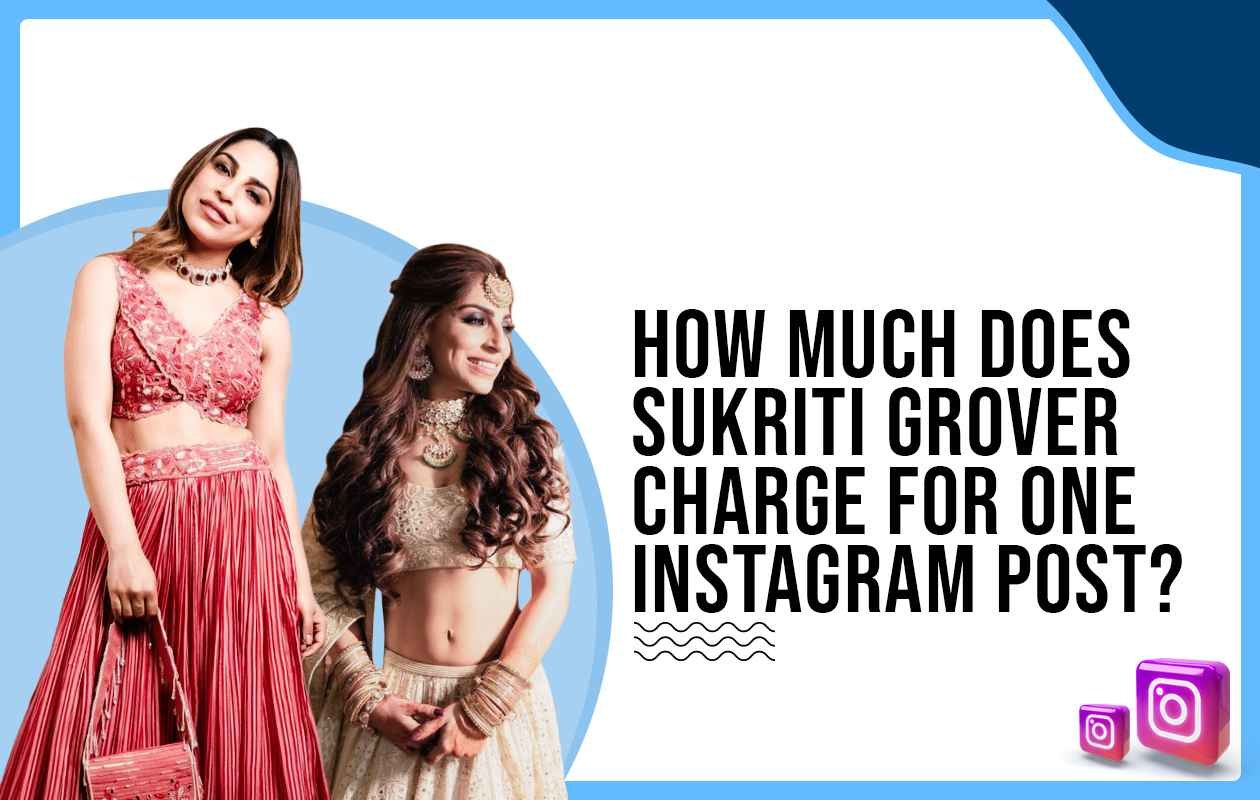 How much does Sukriti Grover charge for One Instagram Post?
In the world of glitz and glamour, there's a driving force behind the impeccable looks of Bollywood celebrities. Meet Sukriti Grover, a name that resonates with style, elegance, and the art of transformation. Through her work, she adorns Bollywood stars and shapes the trends and style narratives of an entire industry. Her Instagram serves as a window into her world of fashion magic, inspiring countless individuals to explore and embrace their personal style.
---
Sukriti Grover's Journey, Stylist Debut, Inspiration, Big Projects, and More
Behind every success story lies a supportive foundation, and Sukriti Grover's journey is no exception. Raised in an environment that valued creativity and expression, her early life played a crucial role in shaping her passion for styling and fashion. Grover's journey in the fashion industry involved mastering the art of styling. 
Her ability to understand the essence of each celebrity's personality and translate it into stunning ensembles is what sets her apart. Her creativity, attention to detail, and trendsetting sensibilities have made her a force to be reckoned with. She has learned the fashion business from Anaita Shroff Adajania, fashion editor and stylist for Vogue India.
She worked as the assistant art director on the American mini-series Bollywood Hero, her first job. After that, she came into costume, and she never looked back. Her first significant project was Dhoom 3 by Yash Raj Films, starring Aamir Khan, Abhishek Bachchan, Katrina Kaif, and Uday Chopra. Sukriti collaborated with Anaita Shroff Adajania on Dhoom 3, styling Abhishek Bachchan, Uday Chopra, and Katrina Kaif.
---
Sukriti Grover's Instagram, Reality Shows, Collaborations, Trendsetting, and Recognition 
Sukriti's Instagram profile is a treasure trove of style inspiration. Her feed is a captivating blend of stunning ensembles, behind-the-scenes glimpses, and snapshots of her work with celebrities. Thus, Sukriti Grover's Instagram charge for one Instagram post is- 
Instagram reel- 40K – 90K
Instagram story- 30K – 80K
Instagram static- 30K – 80K
Instagram carousel- 25K – 70K
Sukriti frequently collaborates with Kriti Sanon, who starred in Bareilly Ki Barfi. The actress is well-known for her taste in clothing and often chooses to wear something that makes her feel at ease but still sticks out in a crowd. Along with her film preferences, her fashion sense has improved over time. Sukriti's favourite style for Kriti was at the IIFA Awards in Bangkok in 2018.
Radhika Madan, who starred in Angrezi Medium, is another actress Sukriti Grover renowned for dressing. Over the years, the actress'sactress's fans have observed a significant change in her. She enjoys working with colour and frequently chooses prints and patterns. She has an outgoing personality, reflected in how she dresses.
Other than these, Grover's influence can also be seen in celebrities like Tamannaah Bhatia and Shruti Haasan. Her styling prowess elevates their red-carpet appearances, photoshoots, and public outings, setting trends and inspiring fashion enthusiasts everywhere. Her ability to set trends and inspire people to experiment with their fashion choices speaks volumes about her influence in the world of style.
Trivia or Amazing Facts About Sukriti Grover
Sukriti first met Kriti Sanon when both were working on the movie Raabta.
The work of Sukriti Grover has been highlighted in HELLO! India and GlobalSpa Magazine.
Sonaakshi Raaj, Kohar by Kanika, and Mozaati are just a few companies that Sukriti Grover has utilised and collaborated with.