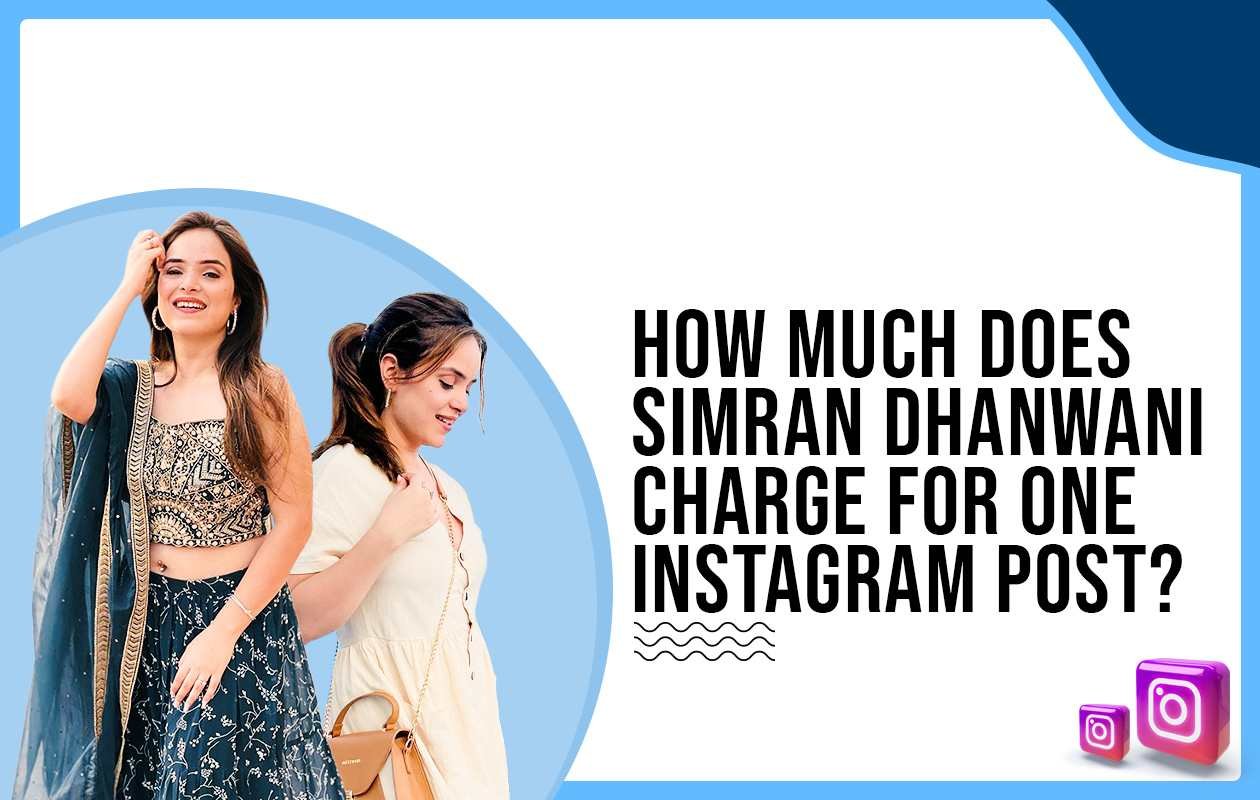 How much does Simran Dhanwani charge for One Instagram Post?
Simran Dhanwani, a multifaceted talent in the Indian entertainment industry, has charmed audiences with her acting, dancing, and comedic skills. She gained immense popularity through her collaborations with well-known YouTubers and her appearances in Ashish Chanchlani's hilarious Vines. Simran Dhanwani has garnered a substantial fan base with a captivating presence and various talents.
---
Simran Dhanwani's Family, YouTube Debut, Content Creation, and More
Simran Dhanwani was born to a Sindhi family on October 15, 1994, in Kalyan, Thane, Maharashtra. Her mother is a stay-at-home mom, while her father owns a business. She graduated from Kishinchand Chellaram College in Mumbai with a Bachelor of Mass Media degree. In 2016, Dhanwani began working as a YouTuber for "Ashish Chanchlani Vines" and had the opportunity to appear in several YouTube videos.
The video "Talking To Your Crush For The First Time: EXPECTATIONS VS. REALITY" served as her debut. Simran's appearances in Ashish Chanchlani's vines like "That Friend Who Can't Speak English," "Types of People in College," and "Exam Results Be Like" have been some of the most viewed and loved videos on the internet. She manages a YouTube account where she posts her dance routines, humor videos, and travel diaries.
---
Simran Dhanwani's Instagram, YouTube, Collabs, and UNICEF
With an ever-growing fan base, Simran Dhanwani's Instagram profile is a captivating blend of candid moments, behind-the-scenes glimpses, and mesmerizing pictures. She regularly engages with her 673K followers and updates them about her latest projects and life events. Simran Dhanwani's Instagram charge for one Instagram post is-
Instagram reel- 40K – 90K
Instagram story- 30K – 80K
Instagram static- 30K – 80K
Instagram carousel- 25K – 70K
Simran Dhanwani was invited to participate in a campaign by UNICEF to raise awareness about human trafficking, child labor, slavery, and other issues as part of the celebration of the UN Convention on the Rights of a Child's 30th anniversary.
The top YouTubers in India, including Ashish Chanchlani, Bhuvan Bam, Akash Dodeja, and Anmol Sachar, have collaborated with Simran. Additionally, Simran has treated her fans to captivating dance covers of popular songs, earning praise for her expressive moves and infectious energy.
---
Trivia or Amazing Facts about Simran Dhanwani
Do you know? After viewing the well-known Bollywood film Dilwale Dulhania Le Jayenge, her parents changed her name from Karuna to Simran.
She previously worked as Account Manager at Molecule Medical Advertising Agency, which she left in 2016.
Amanda Cerny, Kristen Hanby, and Lele Pons are her favorite YouTubers.
She typically posts images of herself modeling and wearing chic attire on her Instagram profile.
Her favorite pet is a dog.