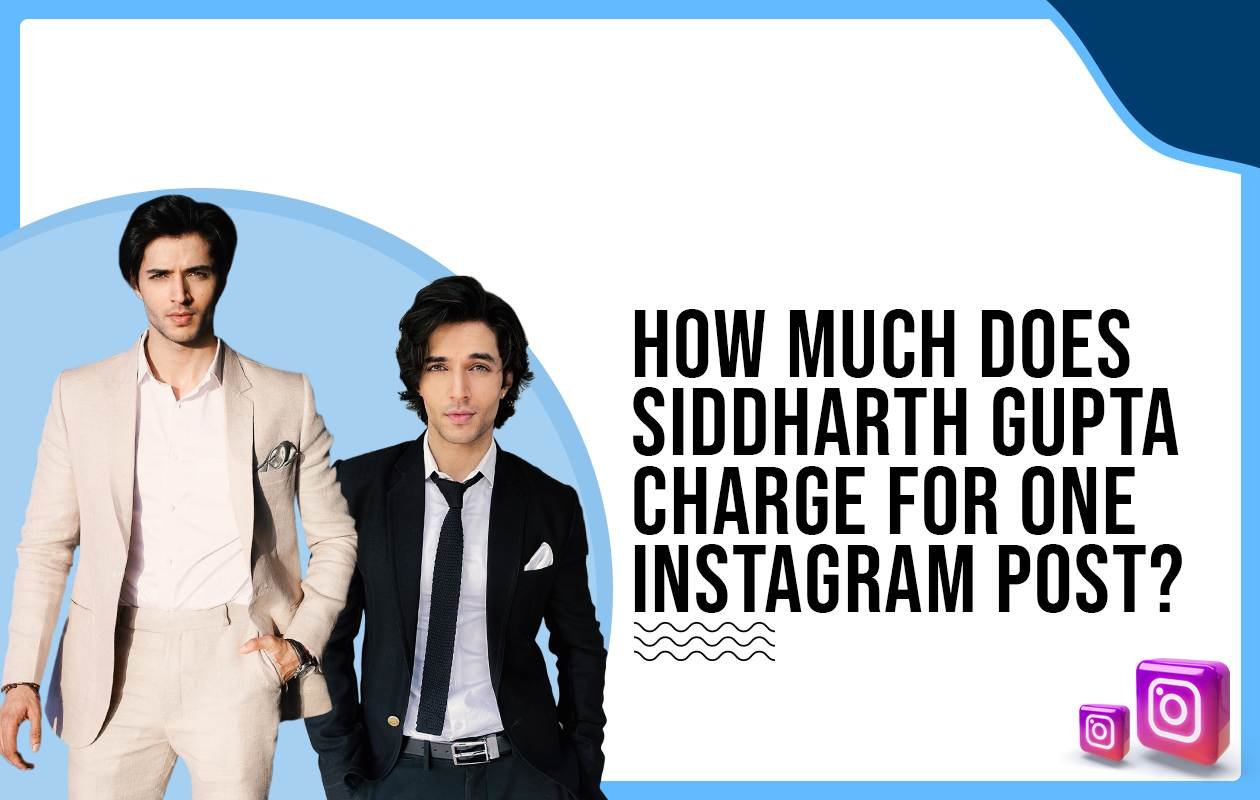 How much does Siddharth Gupta charge for One Instagram Post?
Siddharth Gupta, an epitome of talent and versatility, has carved a niche for himself in the Indian entertainment industry. With his exceptional acting skills and handsome looks, Siddharth has won the hearts of audiences across various platforms, from films to web series and music videos. Born with an innate passion for acting, Siddharth Gupta made his debut in Bollywood in 2014 and has since captivated the industry with his commendable performances.
---
Siddharth Gupta's Studies, Film Debut, Ragini MMS, and More
Gupta was raised in Dehradun and completed his engineering degree in Dubai. Growing up, he displayed a keen interest in the performing arts, and his dream of becoming an actor was nurtured from a young age. Vikas Gupta, his brother, is a reality television celebrity, producer, host, and scriptwriter. Siddharth Gupta's foray into the entertainment industry began with his film debut in "Kuku Mathur Ki Jhand Ho Gayi" in 2014. Directed by Aman Sachdeva and produced by Ekta Kapoor, he played the role of a teenager.
He and Niti Taylor co-hosted season 7 of Pyaar Tune Kya Kiya. He committed to Balaji for three films. In 2017, Siddharth Gupta made his web series debut with ALTBalaji's "Ragini MMS: Returns." Portraying the character of Rahul, he showcased his versatility as an actor in this bold and thrilling web series. Siddharth's portrayal was well-received by the audience, further cementing his position in the digital entertainment space.
---
Siddharth Gupta's Instagram, Music Video Feature, YouTube, and Recognition
Siddharth Gupta has an active presence on social media. With a following of around a million on Instagram, he engages with his fans, shares updates about his projects, and offers glimpses of his personal life. Siddharth Gupta's Instagram charge for one Instagram post is-
Instagram reel- 2lac – 5lac
Instagram story- 90K – 3lac
Instagram static- 1lac – 3lac
Instagram carousel- 90K – 4lac
Siddharth Gupta's journey in the entertainment industry extends to music videos as well. He has been featured in various music videos, showcasing his ability to emote and tell stories through visual storytelling. Gupta appeared with Dhvani Bhanushali in her music in 2019, Vaaste. The song Vaaste has received more than 1.5 billion YouTube views as of 2023. His appearances in music videos have garnered him a dedicated fan following and have further strengthened his presence in the digital space.
---
Trivia or Amazing Facts about Siddharth Gupta
Ekta Kapoor once saw Siddharth Gupta in a theatre play and invited him to an audition for the film "Kuku Mathur Ki Jhand Ho Gayi" after spotting him.
His favorite Bollywood actor is Hrithik Roshan, and his favorite actress is the stunning Katrina Kaif.
Siddharth Gupta's favorite color is black.
He enjoys eating fast food and occasionally he enjoys Indian food.