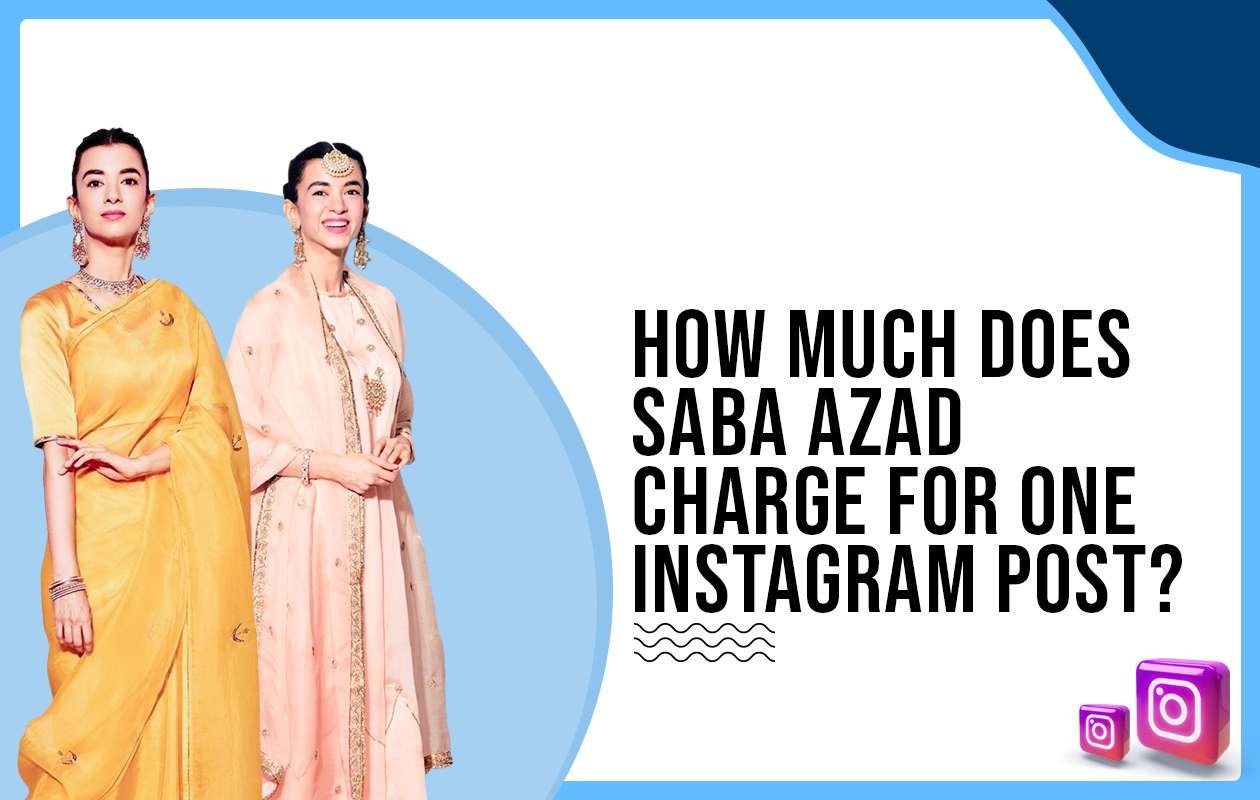 How much does Saba Azad charge for One Instagram Post?
In the world of Indian entertainment, Saba Azad stands out as a multifaceted talent. She has made her mark as an actress, musician, and theater director. From her impressive acting career to her electrifying music performances, Saba has captivated audiences with her versatility and creativity.
---
Saba Azad's Background, Theater Acting, Dancing, Short Films, and More
Saba was born in Delhi into a diverse cultural background, with a Punjabi father and a Kashmiri mother. She started performing with Safdar Hashmi's theater group, Jana Natya Manch, in their stage productions from a very young age. Growing up, Saba had the privilege of working with renowned theater figures such as Habib Tanvir, MK Raina, GP Deshpande, and NK Sharma.
She immersed herself in various dance forms, including Odissi, classical ballet, jazz, Latin, and contemporary dance styles. One of her notable experiences in dance was traveling with her Odissi guru, Kiran Segal, performing in countries such as England, Canada, and Nepal. This international exposure broadened her horizons and also showcased her talent on a global platform.
She made her debut in the short film "Guroor," directed by Ishaan Nair. This film received recognition at international film festivals in New York and Florence. Saba made her Bollywood debut in 2008 in Anil Senior's "Dil Kabaddi," where she portrayed one of the lead roles. One of her most recognized roles came in the 2011 romantic comedy film "Mujhse Fraaandship Karoge."
---
Saba Azad's Instagram, Theater Company, Directorial Debut, Commercials, Brand Collabs, and Recognition
Azad's vibrant presence on Instagram reflects her creative spirit and personal life. She shares glimpses of her artistic pursuits, travel adventures, and moments of everyday life with her 392K followers. Thus, Saba Azad's Instagram charge for one Instagram post is-
Instagram reel- 40K – 90K
Instagram story- 30K – 80K
Instagram static- 30K – 80K
Instagram carousel- 25K – 70K
Azad's creative aspirations extended to theater direction as well. In 2010, she founded her own theater company, "The Skins." She marked her directorial debut with the play "Lovepuke," which premiered at NCPA's experimental theater in September 2010. She moved to Mumbai from Delhi and contributed to the vibrant theater scene in the city. She acted in a two-man play directed by Makarand Deshpande, which was staged at Prithvi Theatre.
Her popularity extended beyond the screen and stage. She appeared in numerous commercials for well-known brands such as Cadbury, Pond's, Maggi, Tata Sky, Google, Kit Kat, Vodafone, Sunsilk, Nescafe, and Airtel. Her captivating presence in these advertisements made her a sought-after face in the advertising world. Additionally, she featured in print campaigns for brands like Clean & Clear, Westside, and Amway, further enhancing her visibility in the industry.
Trivia or Amazing Facts About Saba Azad
Saba's family ties to the world of theater are significant, as she is the niece of the legendary theater personality Safdar Hashmi.
In addition to her acting career, Saba is a celebrated musician and singer in the Indian indie music scene.
She is one-half of the popular electronic band Madboy/Mink, which she co-founded with actor and musician Imaad Shah in 2012.