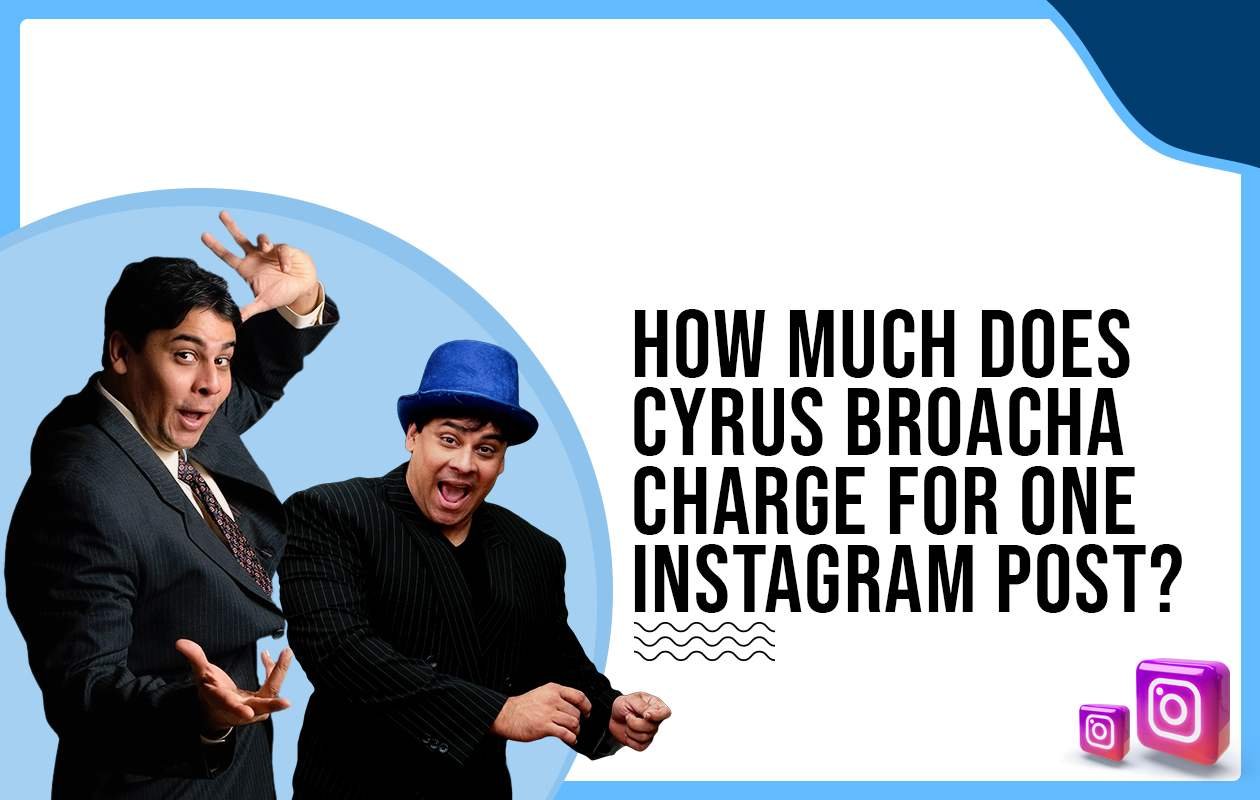 How much does Cyrus Broacha charge for One Instagram Post?
Cyrus Broacha is a name that needs no introduction in the Indian entertainment industry. With his infectious wit, sharp satire, and charismatic presence, he has carved a niche for himself as a multi-talented personality. Cyrus has excelled in various roles, ranging from an anchor and comedian to a political satirist, columnist, podcaster, and author.
His journey in media and entertainment has been nothing short of remarkable. He continues to captivate audiences with his unique brand of humour and insightful commentary, from his iconic show "Bakra" on MTV India to "The Week That Wasn't" on CNN-News18 and his recent participation in Bigg Boss OTT 2, Cyrus Broacha remains a beloved and influential figure in the industry.
---
Cyrus Broacha's family, theatre acting, debuts, books, and more
On August 7, 1969, Broacha was born to a Parsi father and a Catholic mother. His family originally comes from Gujarat's Baruch. After graduating, Broacha studied theatre acting at the Lee Strasberg Theatre and Film Institute in New York City. At age five, he made his acting debut in The Emperor's New Clothes, a school play. He won annual awards for English and drama while performing and writing for the school magazine.
Under the direction of Pearl Padamsee, he performed in his first professional play, Brighton Beach Memoirs, in 1985. When Broacha was 15 years old, he appeared as an actor in the 1987 Hindi film Jalwa. In 1993, he performed on programs, including Dial-In Show, while working as a radio DJ. For MTV, he oversaw numerous programs. For eight years, MTV Bakra featured his live-action show.
He portrayed Cyrus, a character modelled like Chandler Bing, in the Indian version of the Friends sitcom, Hello Friends. In February 2002, he served as the moderator for the Be Heard: A Global Discussion with Colin Powell segment for India. In addition to these, Cyrus has been the editor and host of the twice-weekly ESPNcricinfo Runorder cricket analysis program, including ex-cricketers.
Karl, Aaj aur Kal, a semi-autobiographical comedy about celebrities, Bollywood, and politics, was published in January 2010 by Cyrus. The Average Indian Male, a book about the typical Indian man known as the "aam aadmi," was published by him in 2011. He began hosting Cyrus Says or C& Bull, an IVM network-produced podcast, in 2015. This program explores contemporary Indian politics, sports, civic virtue, and urban living.
---
Cyrus Broacha's Instagram, Features, Colors TV Shows, and Big Boss OTT 2
Cyrus maintains an active presence on Instagram with his 131K followers. His official Instagram handle serves as a platform for him to connect with his fans, share insights, and showcase his humorous take on various topics. Therefore, Cyrus Broacha's Instagram charge for one Instagram post is-
Instagram reel- 40K – 90K
Instagram story- 30K – 80K
Instagram static- 30K – 80K
Instagram carousel- 25K – 70K
Following the success of "Bakra," Cyrus Broacha continued to charm audiences with his satirical prowess on "The Week That Wasn't" on CNN-News18. He participated in the third season of Fear Factor: Khatron Ke Khiladi on Colours TV and the Indian version of Dancing with the Stars, Jhalak Dikhhla Jaa. At the UNAIDS meeting in Hannover, Germany, he was the director of India's "Rock the Vote" campaign and represented MTV.
In a surprising turn of events, Cyrus Broacha made headlines when he entered the reality show Bigg Boss OTT 2 as a contestant. Known for his lighthearted and humorous personality, his presence inside the Bigg Boss house added an element of entertainment among the participants. His stint on the show further solidified his popularity with the audience. 
---
Trivia or Amazing Facts about Cyrus Broacha
Cyrus worked as a radio DJ (RJ) while he was a student.
Ayesha Broacha, a photographer, is married to Cyrus Broacha. Two kids were born to the couple.
He has two dogs as pets, Mary and Peter, and he loves animals.