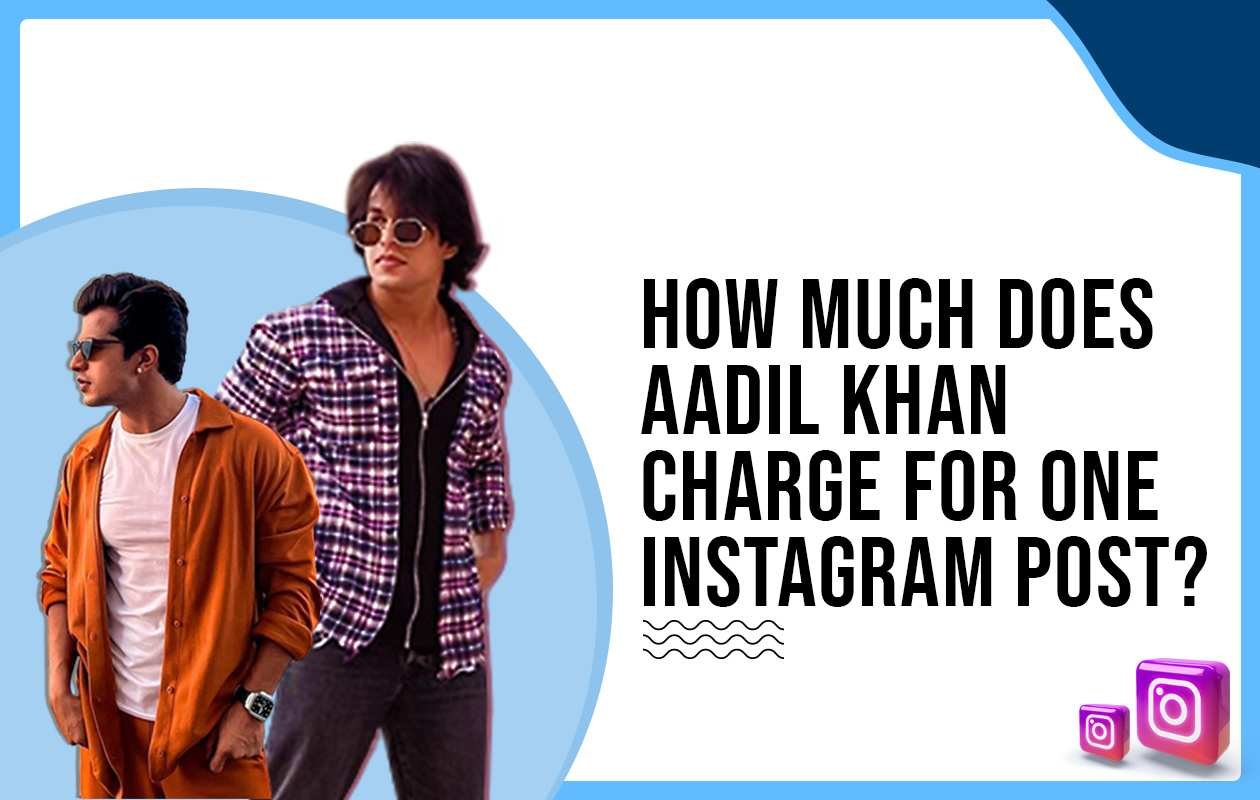 How much did Aadil Khan charge for one Instagram post?
Times of joy or stress, a happy Friday, or a mundane Monday all require a bit of groove, the ability to loosen up mentally and physically. Away from the shackles of this society lies an open ground with music playing at the highest bass. On this ground, you can dance your heart out, irrespective of proper steps or even rhythm, away from the beat counts, just comfort, unless you are a pro dancer like Aadil Khan!
Making a career out of dancing, grooving and moving to tunes, and laughing your stress out while dancing to the latest hip song is a dream; a lot can be achieved if you set your mind, soul, and sometimes steps to it. There were days when dancing was only seen as a hobby, as something you do in boredom or to entertain yourself, and nothing more, but thanks to some of the most woke minds, who decided to pursue it full time, inspiring people to walk and learn their steps. Dreamers and aspiring dancers like Adil Khan inspire many little groovers who aim to crack it in the world of hip or any dancer form.
---
Retracing the steps of dancer and choreographer, Adil Khan
The multi-talented artist is ruling the world of dance and dancers with his commendable knowledge of the art he practices. He is also a Youtuber, choreographer, and fitness blogger, among other things.
Adil Khan had to shoulder his family's responsibility from a tender age due to the demise of his father, and he took up the duties. He worked tirelessly to meet ends, and amidst this chaos and mess, he found solace in dancing. That is when he decided that only dancing could keep him sane and make him bucks if he put his heart and soul into the art form. He is a proud and talented Shiamak Davar student, where he learned Ballad and Hip Hop.
From learning to teaching dance, he had a fairly long journey, trying to make his place in this industry, but since nothing can ever surpass true talent, he was able to power through all adversities. Adil never saw himself as a choreographer; he only pursued the field when his friends convinced him to.
With over 2.39 million subscribers on Youtube, he teaches dance most happily and seamlessly, leaving his students in absolute awe of him! His talent has taken him to collaborate with big-time celebrities like Anil Kapoor! Dancing with 'Lakhan' in the flesh is the dream! Adil Khan is also a part of the World Dance School and often conducts dance workshops in Delhi; he aspired to open a dance institute of his own one day, where young children can learn dancing without paying hefty amounts of fees.
His greatest achievement so far is choreographing the music video for 'Yaad Piya Ki Aane Lagi' starring Divya Khosla Kumar, Shivin Narang, and Abhimanyu Tomar.
---
A five, six, seven, eight with Adil Khan
Adil khan has spent a fair share of his life counting up to and now earning up to eight figures! He has been on Madhuri Dixit's show 'dance Deewane,' which gave him all the fame he ever craved and the exciting opportunity to meet the dance diva herself! Here is what he charges for posting on Instagram, with over 1.7 million followers.
Instagram story- 80k- 90k
Instagram reel- 1- 2lac
Instagram static- 50- 60k
Instagram carousel- 1- 2lac